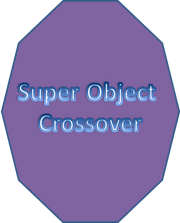 Super Object Crossover is a fan-fic with BOTO characters, Object Galaxy Characters and OCS.
Characters
Edit
Contestants
Edit
hint: 13 out of the 15 BOTO contestants, 11 out of the 20 object galaxy contestants and 7 OCs will compete in this fan-fic
BOTO Contestants
Edit
Party Hat
Pear
Shieldy
Baguette
Pinecone
Scissors
Boat
Pizza
Hot Dog
Slurpy
Chocolatey
Popsicley
Boombox
Object Galaxy
Edit
Ball
Box
Burger Ring
Cross Off
Eraser
Gem
Gum
Hourglass
Lightning
Scroll
Wheely
Apple
Gumbally (by NukriKiladzeTER)
Ribbon     (by MDTGObjectChaos )
Showery    (by kobe56299) 
Fire Token  (by kobe56299)
Pokeball      (by sonicandlink445)
Moustache   (by jay28jay2)
Tie                (by BeAwesomeOne)
0
Ad blocker interference detected!
Wikia is a free-to-use site that makes money from advertising. We have a modified experience for viewers using ad blockers

Wikia is not accessible if you've made further modifications. Remove the custom ad blocker rule(s) and the page will load as expected.